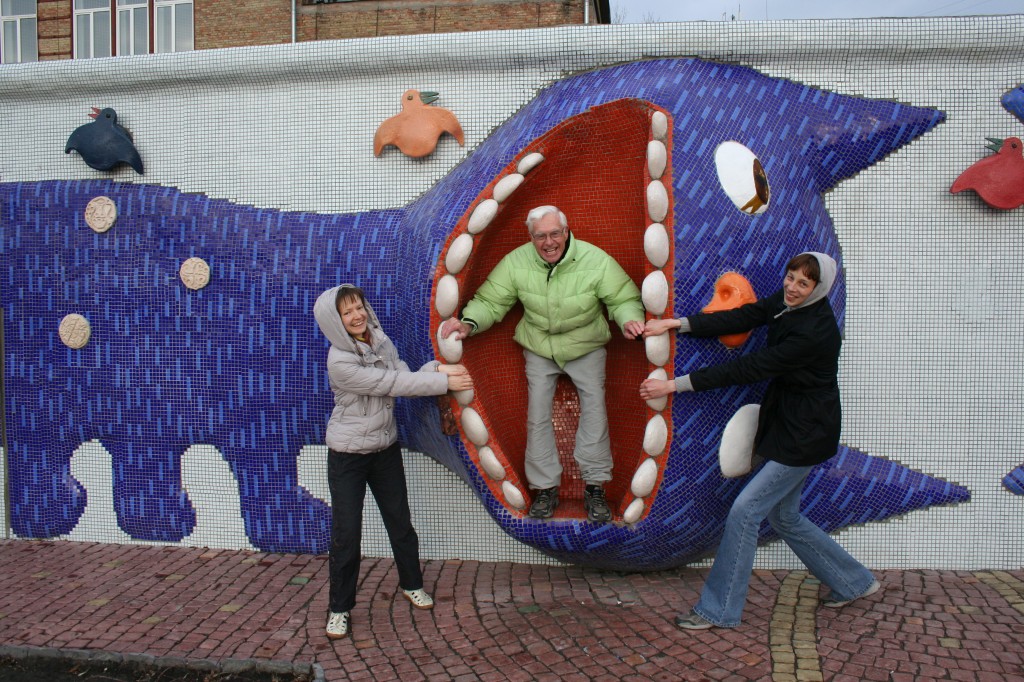 It has been a really busy day here, a bilzzard of emails [though it's been that way for quite some time] and trying to manage some of my "normal" life…
Dad was a "dog person" so perhaps that's why he's "growling" in the picture above. But they took this picture somewhere in Kiev this trip. And that green jacket, well it's a feathered friends jacket. The reason I know is I have one too.
So, let me tell you a story – it's not that interesting, but probably a lot more fun than recounting that we don't have any good news today.
So, the jacket. Well Feathered Friends is probably one of the very best places to get real down outdoor gear. Sleeping-bags, jackets etc. They started many years ago right next to the old REI store. You know the one that smelled of creosote and tar, and was an old rickety haphazard building – before they built the new glass and steel one. Back before they started selling t-shirts and espresso machines.
Well, I'd been looking at one of their jackets and eventually I got one. [From Feathered friends, not REI.] They're not exactly cheap, but for what you get, they are really quite reasonable. [800+ fill down is "typical" which is quite amazing, if you know about goose down.]
Well Dad saw mine and was impressed. Down captures heat really, really well. Practically the instant you put it on, you can feel it keeping you warm. That's really nice on the summit of some cold and windy peak – just after you've stopped climbing and your sweat is about to turn to ice, and you shiver yourself to pieces!
So, dad decided he wanted one too. But he, I think, bought one that was too warm. If I recall correctly, that one has a completely down insulated hood too. It was practically like wearing a sleeping bag! Which was great if it was really cold, but would turn into a sauna if it was above 50 F or so.
But that neon lime *green*? Ouch! I never heard, but I hope he got some kind of killer deal for that green color!
So, it's neat and sad all at the same time – seeing that jacket. It was a small thing – a tiny shared bit of experience. But it's those little things you remember and that touch you.
—
Ok. well enough stories, eh? Then, back to the salt mines we go.
Today Randy asked for more video feeds. We've looked at the map of where they are situated and if we can get most of what we want, I suspect that will be pretty helpful. I've seen snippits of it, and it's "odd" seeing Dad, knowing that just minutes later he disappears. [It's also odd how you don't even need to see a person's face to know who it is. The way we walk and move – even such ordinary things are still unique. When you see it, you just know.]
Randy went to visit the US Embassy, since he hadn't talked to any of them in-person since arriving here. Jeff had visited, but not Randy. Randy wanted to ask if they could assist in moving the police any faster. I don't think they were terribly hopeful. I think the general consensus was that the Ukraine police simply move at the pace they move.
The embassy has been extremely helpful and welcoming. They've taken our needs seriously and really done as much as they could to help. It seems that they simply don't have enough leverage to get the police to do more. [I wonder if someone at higher levels of the state department could do more. Does anyone out there know John Kerry, or William Burns etc?! You could just send them a friendly note and ask if they'd see what they could do to motivate the Ukrainians. 🙂 ]
We still can't get the video feeds the police have, so we're moving forward at getting our own and simply trying to live without the resources that the police should provide. We're not leaving anything out, that we might be able to do, to find Dad.
We're trying to ensure that we haven't somehow missed him leaving Zamkova park – even though we've seen the camera feed that is near that entrance.
These are motion sensitive cameras so there isn't a continuous feed. The camera, in general, turns on and off only when it "sees" movement in the central portion of the frame. So, as movement moves out of the center of the frame and moves away, the camera may stop unless something else has entered the frame and keeps the camera recording. So, it is certainly possible, depending on the view and other factors that you might not see everything "interesting" there was to see. So, more cameras and more views increases our certainty about exactly where we think Dad went.
Tomorrow will bring more effort to get additional video and closely look at the new video we have already obtained but haven't yet had a chance to look at.
The verse that's been in my head for days now is:"Not by might, nor by power, but by my will" says God.
And impatient me says, "Ok God, I get it, but could you hurry it up a bit, please."
Man, is that ever hard.
More tomorrow.
-Greg
Posted 2013/05/22 10p PT